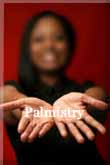 There has been little widely accepted research verifying the accuracy of palmistry. No conclusive data has yet been found to support palmistry. In fact, there is as much anecdotal evidence against the scientific validity of palmistry as for it. Main stream science has related various hand features to specific medical disorders and psychological issues, but this is not directed related to the field of palmistry. One of the few thorough palmistry research sources on the internet is presented by a Dutch psychologist, who invited professional palmistry readers to participate in various psychology experiments:
>> MORE PALMISTRY RESEARCH: Palmistry Research
The practice of palmistry dates back to 2000BC. But modern palmistry has developed as a branch in the field of alternative psychology. Many theories have been described by palmistry readers, however the confirmation found by professional palmistry readers can be described as 'anecdotal evidence'. Palmistry sceptics usually warn that the success of palmistry is likely related to the succes of 'coldreaders' and 'sympathetic magicians'. Psychologist have noticed that practitioners of palmistry are usually hardly familiar with client related psychological mechanisms, like for example: the Barnum-effect and subjective validity:
>> MORE PALMISTRY PSYCHOLOGY: Palmistry Psychology
List of PROFESSIONAL PALMISTRY READERS:


Alexander Golandsky (Neustadt - Germany),
Alice Funk (Zurich - Switzerland),
Arjunada Vitos (London - UK),
Barbara Ramseyer (Munchenstein - Switzerland),
Beth Davis (Tucson - USA),
Claire Savard (Quebec City - Canada),
Daya Nand (Madurai - India),
Mr. Dinakaran (Madurai - India),
Elisa Mehl (Sydney - Australia),
Elle (Edelaide - Australia),
Evelyn Muller (Dassel - Germany),
Frank Clifford (London - UK),
Frederique Herel (Oakville - Canada),
Gary Markwick (London - UK),
Ghanshyam Singh Birla (Cheneville - Switzerland),
Jack Trappe (Sandhausen - Germany),
Jay Gurudeve (Mumbai - India),
Johnny Fincham (Kirby Bedon - UK),
Kenneth Lagerstrom (Burnaby - Canada),
Myrna Lou Goldbaum (Boulder - USA),
Pascal Stossel (Zurich - Switzerland),
Patrick Gutter (Zurich - Switzerland),
Patti Lightflower (Maineville - USA),
Rachel Aeschbach (Riehen - Switzerland),
Robin Gile (Albuquerque - USA),
Rosalyn Motter (Sydney - Australia),
Stephen Wayne-Smith (Surry Hills - Australia),
Sue Compton (Warwick - UK),
Sven Peters (Hamburg - Germany),
Zuzar Patel (Mumbai - India).


Labels: hand, palm, palmistry, palmistry psychology, palmistry research